Tactical Awareness Group (TAG) is comprised of current and retired federal, state and local law enforcement and private security personnel from across the United States. These dedicated TAG employees are experts in their respective subject matter topics, tactics, and techniques. TAG is now in your city to lend expertise and support to you and your client.

Protective Operations
Executive Protection Awareness for the Protectee
Executive Protection Operations Training for Protective Agents
PR-24 Instructors and Basic Course
DT Instructors Course
Extendable Baton Course
Personal Awareness and Non-Tactical Intervention
Survival Tactics and Techniques for Street
Street Awareness for Females
Survival Awareness
Simulations for Law Enforcement
Street Awareness for Civilians
Tactical Electronics And Urban Surveillance Techniques
Undercover Investigation Training
Security, Safety, and Threat Assesments for Persons, Residences, Apartments and Commerical Buildings
---
SAFETY AND SURVIVAL
Safety is always the primary concern when conducting undercover operations. This class will familiarize students with the proper methods and techniques for the safety and survival of individuals involved with an undercover operation. Read More
Contact US for more details
---
Public, and Assisted, Housing Authority Consulting Services

Private and Residential Apartment Complexes Consulting Services
Against a backdrop of crime, drugs, juvenile delinquency, and structural decay, many of the nation?s public housing authorities are finding it impossible to provide a safe, decent and secure environment for millions of low and moderate income Americans. As an organization adept in sourcing security solutions for public housing authorities, TAG has (U.S. HUD) exclusively trained personnel who have experience in implementing housing specific security measures and analysis aimed to reduce risk factors and threats to buildings, recreation space and personnel.
Our highly trained cadre comprised of former (U.S. HUD) federal law enforcement agents has conducted hundreds of comprehensive security evaluations working closely with our public housing clients to seamlessly integrate budget sensitive and cost effective measures to counter and mitigate risk. Read More
---
TAG is available to assist you to be aware of surroundings, while going about routine business and day to day activities. THIS IS NOT A MARTIAL ARTS CLASS. "Street Awareness for Civilians" is a 2hr block of instruction that is designed for the busy lifestyle that has neither the time or the resources for weekly martial arts classes, and want right now, effective remedies to real life safety concerns. To be equipped with the knowledge and skill of protecting themselves in a society that has become more and more prone to violence and violent attacks. TAG is here to equip you with fundamental skills that will leave you with a heightened level of confidence and the know how, of protecting yourself in otherwise dangerous, even life threatening situations.
This basic street awareness course will enable residents to evaluate body language, surroundings, and approaches to people, places, and things. Each participant will be taught how to react to different street confrontations, and properly demonstrate safe and established techniques, tactics, and strategies to accomplish various scenarios safely and successfully.
Respectfully,
Gary N. Berry
President, TAG
Principal Protection; Lessons Learned
The Evolution of Protective Operations
by R.E. "Rick" Colliver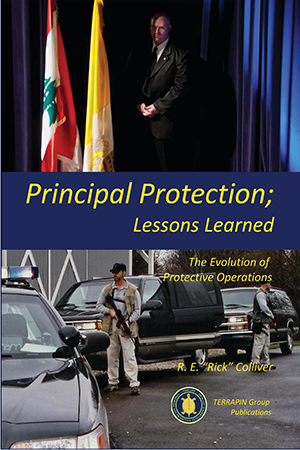 Consulting Contributor
Gary N. Berry